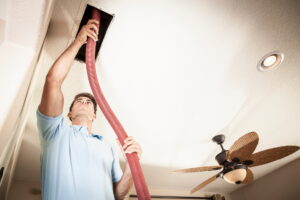 Your air conditioner has an air filter to protect the inside from dust, dirt and miscellaneous debris that would otherwise get inside. So that means that your air conditioner probably doesn't need to be cleaned on the inside, right? Wrong! Unfortunately, dust and dirt can still get into your air conditioning system and cause problems.
And once it reaches your AC ductwork, that becomes a bigger problem because then the particles are recirculating through your home. If your home is noticeably dustier than usual, you may need air duct sanitizing in Palm Beach Gardens, FL. Keep reading to learn more about ductwork sanitizing and how it might benefit your home. 
Why Sanitize Ductwork?
Dust and dirt or not the only problem for your ductwork. Those tiny particles can carry viruses, bacteria and allergens along with them throughout your AC system. They can also create a breeding ground for mold and mildew spores if the air inside your ductwork is also humid.
Many of these microscopic particles are dangerous for your health. And once they enter your ductwork, they have the opportunity to multiply and spread, then recirculating back through your home again and again. Your family is more likely to get sick or suffer from allergy symptoms. But, if you can eliminate these particles, you can reduce the chances of getting sick or suffering from allergy flare-ups.
Ductwork sanitizing is especially important if anyone in your household has a weakened immune system or is more prone to getting sick. After you sanitize your air ducts, you may also consider other services that can prevent bacteria, viruses and mold in the future – like a whole-house air purifier.
What Is Ductwork Santization? 
Ductwork sanitizing goes a step further than cleaning. When we clean the inside of your air conditioner, including your ductwork, we wipe down all of the surfaces to eliminate dust and dirt. Sanitizing is an opportunity for us to wipe down the surfaces with a cleaner that is grated to kill microscopic bacteria, viruses, and even mold and mildew.
Our cleaners are not toxic, so they are completely safe for use around your children and pets. We will use the disinfectant to clean the inside of the ducts after we wipe away dust and dirt. Then we will make sure that the surfaces are dry before turning your air conditioner back on.
Since your ductwork is an intricate system, we may use a fogging method to disinfect. This ensures that the disinfectant reaches all of the crevices of your ductwork and kills 99% of the spores and microorganisms inside. Keep in mind that you may not have to schedule an AC sanitization service every time you have AC maintenance, or even every time you have a duct cleaning.
It depends on how quickly your ductwork gets dirty again or if you have any specific health concerns. After we complete our inspections each year during maintenance we can let you know when it's time to invest in this valuable service again.
Contact Mechanical Air Conditioning for your central air conditioning needs. Schedule an appointment today with our expert team for ductwork sanitizing.