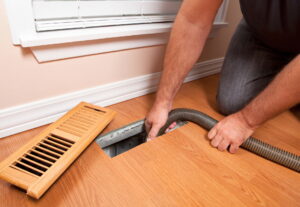 Did you know that experts recommend you have your ductwork cleaned every three to five years? If you can't remember the last time you had your ductwork cleaned, if at all, it's time to give our team a call to schedule this valuable service.
Air duct cleaning in Palm Beach Gardens, FL, is more important than ever. It's an investment in both your indoor air quality and the efficiency of your air conditioner and heater. You can keep reading to learn more about the benefits of duct cleaning, including what our team does during the appointment.
Indoor Air Quality
The top reason to schedule a duct cleaning is to improve your indoor air quality. The air that gets trapped inside of your home can be up to five times more polluted than the air that is outside of your home. A big part of this is that dust and dirt get trapped inside of your ductwork and then cycle back through the air again. 
Meanwhile, you continue to bring more pollution and dirt back inside your home with you each time you return. Even if you are wiping down surfaces around your home and cleaning regularly, your ductwork is still trapping these particles to create a never-ending cycle. But when you invest in a duct cleaning service, you can start fresh. Your ducts will be completely cleaned and even sanitized if they are particularly dirty.
AC and Heater Efficiency
Most homeowners don't realize that dust buildup inside of ductwork can have a major impact on airflow leading into a home. When your air conditioner or heater pushes air through the ductwork, dust particles stir up and re-enter the air. This can interfere with the otherwise streamlined airflow and prevent conditioned air from reaching your home. 
As a result, your air conditioner and heater have to work harder to maintain a consistent temperature in your home. This added strain can increase the wear and tear of individual components inside of your HVAC systems. You may face problems more frequently that need to be addressed by making repairs.
Opportunity for Inspection
A duct cleaning service is not just about vacuuming out and wiping down the inside surfaces of your ductwork. It is also an opportunity for our team to inspect all of the individual pieces and connections to make sure they are all secure and completely airtight.
When you have holes or gaps in your ductwork, your air conditioner and heater cannot work as efficiently. In addition to more dust and dirt entering your ductwork, conditioned air is also escaping. When we clean your ductwork, we can also repair holes and reseal the joints so that your ductwork has a better chance of staying clean in the future.
Contact Mechanical Air Conditioning for your HVAC needs. Schedule an appointment today for duct cleaning services.