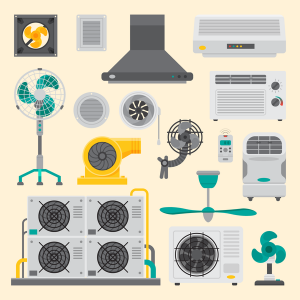 We deal with a lot of warm weather here in Florida so when you need air conditioning repair services, you're going to need them promptly and from a professional team. We know that this can be a lot easier said than done, but that's why we have a full team of professionals ready to do the work that you need.
If you're looking for AC repair in Jupiter, FL, you can schedule an appointment with the professionals from our team. Make sure that you come to a team of professionals rather than just trying to DIY your way through the problem or opting for work from the work of amateurs. You won't have to worry about any of the work that you have. Call us today to schedule an appointment with our team.
A Few Signs That You Need Air Conditioning Repair
In the future, we might have air conditioners that send a notification to your phone when it's time for air conditioning repair. Right now, determining when you need air conditioning repair that's anything short of a full breakdown might need a little guesswork. Watch out for these signs and call us when you notice an issue.
1. Odd Sounds
Are you noticing some odd sounds in your home? Your air conditioner isn't going to be a completely silent system, but you shouldn't hear things like banging, rattling, scratching, or squeaking. Don't try to drown out any odd sounds. They're an early warning sign that something is going wrong. Intervene with the help of our professional team members.
2. High Energy Bills
Is the cost of your home's energy bills adding unneeded stress to your life? Your air conditioning bills should always be reasonable—even when the weather is scorching out. If this isn't the case then it's time for you to schedule an appointment with our team members.
3. Inadequate Cooling
We know that the weather is finally starting to cool off here in Jupiter so you might notice a problem like this a little less, but make sure that you're keeping a close eye on your cooling power. If you notice that you're setting your thermostat higher and higher to deal with the weather, it's a sign that your air conditioner isn't up to par. This is an especially alarming sign now that we're moving into winter. Call us at the first sign of trouble.
Professional Service Makes All the Difference
We're a multi-generational HVAC company here at Mechanical Air Conditioning. We have years of experience working in homes just like yours. We understand Florida weather so well because we're professionals and we're locals too.
You won't have to worry when you come to our team. We can be out to your side in a flash and there's very little that we can't cover. We understand that AC repair is an urgent, serious issue so we take it seriously. Make sure that you schedule an appointment with us when you need great work.
Contact Mechanical Air Conditioning today to schedule an appointment with our team members. Family Owned & Operated over 40 Years in Palm Beach County, Your Trusted Source in AC Repair.