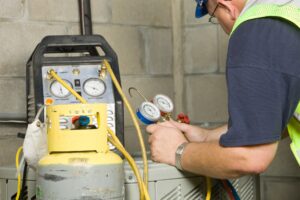 Is air conditioning system maintenance really mandatory, or is it an optional service that you can skip and save some money? While you can skip AC maintenance if you want, it will end up costing you later on. 
AC maintenance is not an expense. It is an investment in your air conditioner, home and comfort. If you haven't scheduled AC maintenance in Port St. Lucie, FL for this season, now is a great time to do so. You can also keep reading to learn more about why air conditioning maintenance is so important. 
Indoor Air Quality
There are so many benefits of investing in AC maintenance. Perhaps one of the most important ones is your indoor air quality. When your air conditioner is well cared for, it works better. And the better that your AC operates, the better your indoor air quality is.
It is inevitable that some dust and dirt gets into your air conditioning system and ductwork. AC maintenance is also an opportunity to wipe down the interior surfaces so particles don't recirculate through the air. This also prevents dust and dirt from getting into the crevices of your AC and slowing it down.
Energy Efficiency
Air conditioning maintenance is also the only way to make sure your air conditioner remains energy efficient across its entire lifespan. With each passing year, your air conditioner naturally loses a little of its energy efficiency as parts wear down. But AC maintenance is the chance to keep your air conditioner in tip-top shape and maintain that energy efficiency. This helps you save on your monthly energy bills for years to come instead of watching them slowly creeping up over time.
Maintain Affordability
You may not think that spending a few dollars more on your energy bill is a huge deal, but if your energy bills go up consistently over the lifespan of your air conditioner, then the costs can really add up. But that's not the only way you save money with AC maintenance.
It's also a great way to extend the life of your air conditioner. The more life you get out of your current AC, the more you're getting out of that initial installation investment. You're also saving money every single year that you don't have to invest in a completely new air conditioner. This can offer you the opportunity to save up and plan ahead for when you will need a new AC installed.
Stay Cool
Let's face it, you want to stay cool and comfortable during the heat of summer. Air conditioning system maintenance is the only way to make sure your AC stays in good condition. After all, problems don't happen overnight. They start silently, and are largely invisible. By the time you notice signs of an AC problem, it is usually pretty significant. AC maintenance is an opportunity to stay ahead of those problems so that there is no interruption in your AC's cooling ability.
Contact Mechanical Air Conditioning for your central air conditioning needs. Schedule an appointment today for AC maintenance and stay cool all summer long.